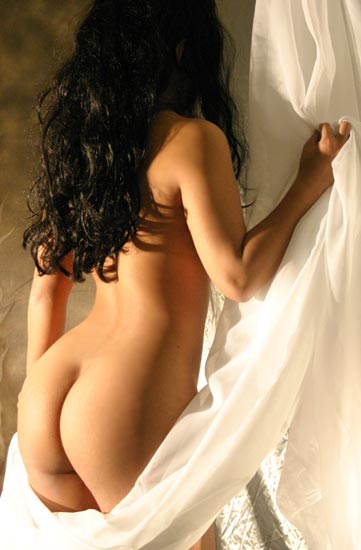 A good photographer is, of course, the most important element. However, he or she is not a miracle worker. here are some tips on what *you* can do to make your photo shoot the best ever!
I've been the Lovings.com Adult Guide photographer for 20+ years, and had photographed hundreds of escorts, masseuses, exotic dancers and other adult entertainers of all ages, ethnicity, body shapes, genders and walks of life. I hope my experience helps you have a shoot you'll be proud of forever, and I apologize in advance if I'm stating the obvious – I learned the hard way that the obvious is not always so :-).
Your stuff
Please at the very least bring matching underwear – and no sprung-elastic granny panties either. Please! You'd be surprised by the number of people who show up for a $300 shoot with a ripped blue bra and white panties going up to their necks, and nothing else…
Seriously, show up wearing sexy stuff, and bring more. An hour shoot can fit about 3 changes, but not everything will "work". Extra outfits mean you won't have to settle for less than a perfect look. Lingerie is always nice, but you don't have to limit yourself to it. Think of what fits your style – anything from a translucent scarf to the ripped jeans, or a full evening gown with a fur coat. Don't be afraid to discuss ideas with your photographer, and tell him/her what your unique image is.
At one of my favorite shoots, a lady brought in three garbage bags full of fake autumn leaves, and she was photographed nude, rolling in the leaves. Beautiful photos!
Remember accessories – jewelry, belts, shoes, scarves. Shoes are the second most forgotten item, right after the hair brush.
Personal props are always great – your favorite velvet bedspread or a teddy bear, whips, that electrostim device your customers love (and fear) so much. Believe me, I don't have one with me (I gave away the one I had at home, sorry).
Yes, I do have some clothing, lingerie, jewelry and such, but there are still good reasons for you to bring your own-
Uniqueness. If you use my props, you'll wear the same things a dozen others have worn. The idea is to make you stand out, not fade in.
I don't keep ANY panties around. Would you really want to wear the same pair that's been cozy with dozens of other unnamed coochies before, no matter how well it's washed? Ugh!
Your body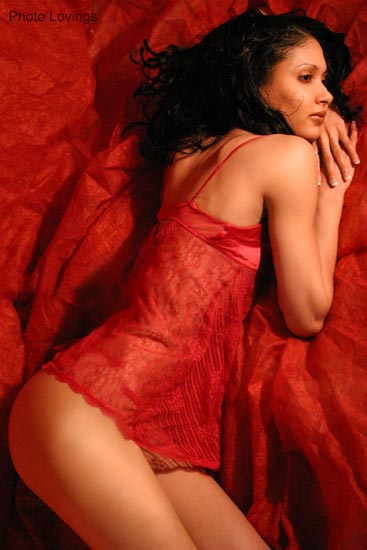 Before your shoot, try to take some time to pamper yourself. Have your hair and nails done – most people remember that. The other important and often neglected part of you is your skin. NO Spray-On Tan unless is brand fresh!! By the time you get to the shoot, it'll rub off on your clothes into ugly splotches that'll make your skin look dry and 20 years older; and it often photographs a fake orange color. Drink a lot of water, use plenty of lotion a couple of days before and on the day of the shoot. If you tan, don't do it the same day nor the day before – it'll dry out your skin really badly. Supple, soft skin with a healthy sheen subtly highlighting your curves will do wonders for the beauty of your shots.
Lipstick that's too light will make your lips disappear, unless you use a darker lip liner too.
If you're nervous, tense, tired or in pain, say so. There are many things I can do to make you more relaxed, and any good photographer can adjust to your particular health requirements and still get great shots.
Your mind
Happy you equals great photos!
Take the day of your shoot off if you can. Pamper yourself, go to a spa, get A LOT of sleep. If you're in a good place, it'll show and shine! Camera knows if you're stressed out, tired, content or in love. It's not something that can be easily "fixed" by the photographer. Not the time to have a screaming phone fight with your boyfriend, especially during the shoot (yes, it happened).
If something is making you uncomfortable or unhappy during the shoot, talk freely about it with your photographer. Her or his job is to make your shoot great, and that includes a positive state of your mind. It's possible that he/she's not aware that certain poses, behavior or clothing make you uncomfortable – everyone has a different comfort level. It's also possible that you're simply not a good match. Don't feel bad if you don't "hit it off" with a photographer, even a famous one. It happens. Every photographer has a "look", a style he or she shoots in. Move on and find the one that fits your style.
*Advanced tips –
Faking seductively half closed eyes and half open mouth look great in person. In photos, this too often says "stoned or drunk" instead. Don't relax your face too much, and raise your eyebrows a bit to look alert. A good rule of thumb – for this look, your face should say that you're remembering the moments before your last great orgasm. Just visualize this and you'll be ok :-).
Always stand straight but not stiff. Do some stretches, detect the muscles that are bunched up and try to relax them. Slouching is not sexy with no clothes on – it'll make your breasts look less perky, and your middle thicker. It's simple – stick out the parts of your body you want to look bigger, stretch or tighten the ones you want smaller.
05/04-22 update: Hey, this is a great, simple DIY photos guide you might want to check out as well!
---
Had an awful shoot recently, so here are a few more pointers I hoped I didn't even have to talk about:
If you're on drugs, please don't take so much you're out of control during the shoot (or show up just before you take them, so all you can think about is getting out of here). Yes, we know if you are on them. It's often obvious. Especially if you're on speed, and can't sit still long enough for me to shoot a photo. We are not here to make moral judgments about your life, but this is very stressful for everyone involved, and the quality of your shoot will be seriously effected.
Never ever do one of these two things (both actually happened to my studio some time ago):
-NEVER show your lingerie photos to the neighborhood high school guys as you leave the studio (for god's sake!). It can get you arrested, and it ends with us having to chase curious guys out of our office for weeks.
-Don't have screaming fights on the phone in front of our studio. Especially not in the middle of the road, in traffic. We like our neighborhood and want to stay in it. You will not be welcomed back.
I'm happy to say that 99.9% of our photo shoot customers are wonderful people. But sometimes, one just has one of those days… sheesh.